Celebrity Q&A: Ty Pennington
First known for his work as carpenter and designer on Trading Spaces and later as host of Extreme Makeover: Home Edition, Ty Pennington will be appearing on the Main Stage at the Cleveland Home + Remodeling Expo on Saturday, March 21. Before he visits the Expo, he's sharing some home project tips and ideas with us!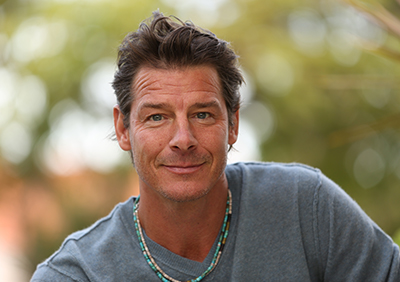 Best décor or home improvement app folks don't know about?
Ty: You can't beat Houzz or Pinterest for getting the design inspiration, and if you want to verify resources for a project Porch.com is a great place to start.
Any simple tips for upgrading a small bathroom?
Ty: Storage is always the problem in any small space, so look to resources that can help you to maximize that part of the room. Boats, ships, and small apartments in Tokyo are great places to look for inspiration – seriously. They use space in the most efficient way out of necessity.
What home trends are you loving? What styles do you think will emerge in the future?
Ty: I've always been drawn to Scandinavian and mid-century design. I like seeing how those have not only stood the test of time, but they've also morphed into a modern-day design without losing their aesthetic. Simple, functional, but always inviting.
What's your favorite paint color?
Ty: I favor neutral colors, and then add color with textiles and artwork. I'm not the guy that is painting the wall orange – but I will use a bold wallpaper on occasion.
Wallpaper: love or hate?
Ty: I think wallpaper has come a long way from the dated florals and borders that we saw in homes for the better part of the century. I also like how peel and stick options have become available so that you aren't as committed to a look as you would be even if you painted it. Taking it a step further is the option to customize the wallpaper with your own designs, images, or photographs. So yes, I say love it.
What's your favorite part about speaking at a home show?
Ty: Actually attending the home shows is amazing because I get to see what's out there or coming onto the market. But speaking is great because, well, I love hearing people's stories about their own DIY experience or how they were affected by EMHE or my ADHD.
Mar 9, 2020, 14:00 PM